20th International Rover Meeting
from 26th to 28th of May 2022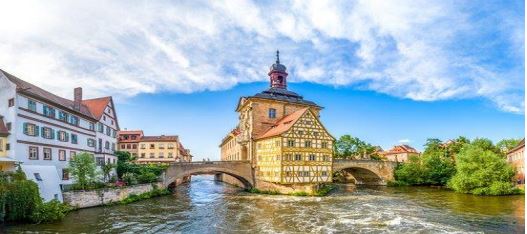 Dear Rover friends,
unfortunately the hotel, which was planned for the meeting, informed us that the hotel operation will be discontinued and our bookings will be cancelled. In the Bamberg area, it was/is impossible to find a hotel with corresponding free capacity. We did everything we could to still hold the meeting and, thanks to the great commitment of a club member, we managed to book a hotel in Chemnitz. In addition, an attractive program adapted to the new surroundings has been put together.
All registrations already made will be kept at the same conditions, only the room bookings have to be made again at the new hotel (the prices are even considerably cheaper at 109,- for double room and 99,- for single room).
The current details on the meeting schedule and hotel booking will follow shortly (by 6.2.2022 at the latest) and will then also appear on our homepage. Those who wish to cancel their registration will of course receive a full refund.
in the year 2022 the International Rover Meeting is being arranged by the "Rover Freunde Deutschland" in and around Bamberg Chemnitz.
If you want to take part you have to register by filling in the form and transfer the fee (EUR 150,00 per person).
This fee includes the reception, dinner on thursday the 26th of May, lunch, coffee and tea time and the gala dinner on friday the 27th. It includes also all costs for guided tours, entrance fees, bus tour, roadbook and so on.

Booking of the hotel must be separately by yourself under the keyword "Rover Freunde".
Please book directly at
Golfhotel Schloss Reichmannsdorf
Schlosshof 4, D-96132 Schlüsselfeld
T: 09546 59510 F: 09546 5951499
E-Mail : info@schloss-reichmannsdorf.de
Website : https://www.schloss-reichmannsdorf.de

Double bedroom costs € 129,00/night, single bedroom € 109,00/night. ( Prices are per room and night including breakfast, € 9,00 parking fee/car and day in addition.) If you want to stay longer or come earlier its possible for the same special rates.
Please find more information about the meeting on the separate page: " Program of the 20th International Rover Meeting 2022".
The registration form is enclosed or you can download it directly here.
We are looking forward to a lively participation of all Rover Friends from the inland and abroad.
The attendance is limited to 50 vehicles.
The deadline for registration is the 28th of February 2022.
Don´t hesitate to register for the meeting